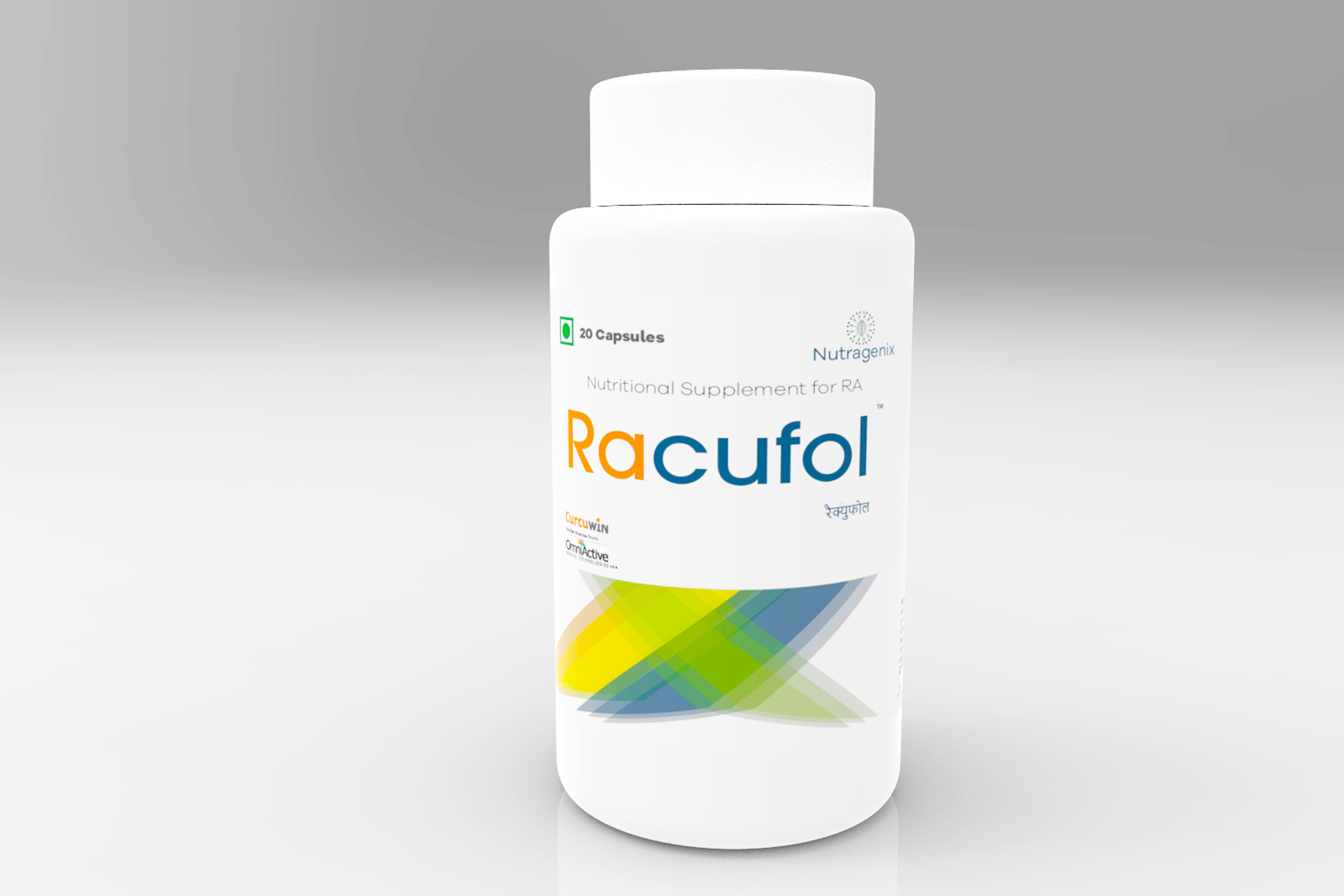 1st time in India, a nutritional supplement for Rheumatoid Arthritis patients on Methotrexate therapy

Each capsule contains:

L-Methylfolate 0.5 mg

Methylcobalamin (vitamin B-12) 0.5 mg

125 mg

Management of Metabolic Effects of Methotrexate (MTX) Therapy for Rheumatoid Arthritis

What is Racufol?

Racufol is a Unique Effective Formulation for Management of Metabolic Effects of Methotrexate.

What does Racufol contain?

Each Veg. capsule contains

L-Methylfolate.........................0.5 mg

Methylcobalamin...................0.5mg

CurcuWin…...............125 mg

What is Racufol for?

Racufol has a unique effective formulation which overcomes Methotrexate side effects and naturally reduces symptoms of rheumatoid arthritis.

How does Racufol help?

Racufol contains L-methylfolate which being an active form of folic acid is avaialble for direct use to the body, CurcuWin (OmniActive USA) which is a high absorption Curcumin and Methylcobalamin that covers insufficiency of Vitamin B12 due to folate.

What are the health benefits of Racufol?

Racufol helps to reduce joint pain and stiffness in Rheumatoid arthritis. Offers high anti-oxidant level of Curcumin. Protects against Methotrexate induced liver damage. Helps to reduce joint tenderness and swelling.

What are the side-effects of Racufol?

There are no reported side-effects for Racufol.

Recommended usage: 1 capsule to be taken twice daily.

Directions for use: To be taken orally along with water

Storage: Store in a cool, dry and dark place. Protect from light and moisture.

Marketed by:

Nutragenix Healthcare Pvt. Ltd.,
D-110, Kanakia Zillion,
LBS/CST Road junction,
BKC Annexe, Kurla(W).