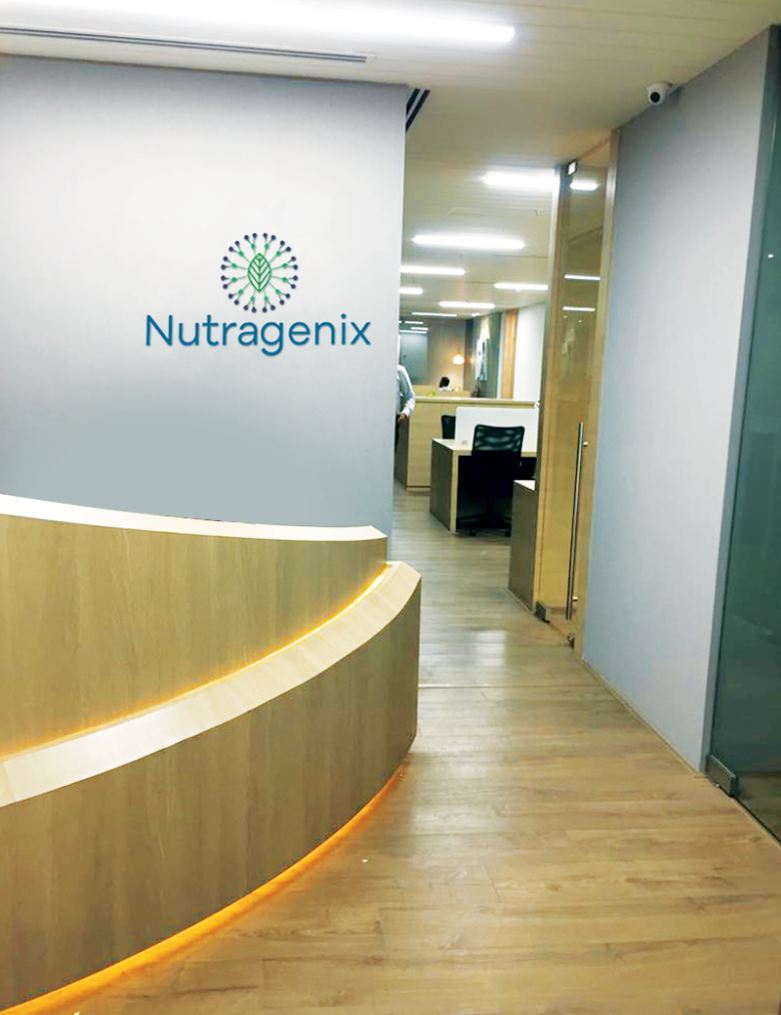 Nutragenix
Nutragenix is incorporated with an objective of providing innovative, effective and superior quality healthcare products which are evidence based and are supported with clinical trials in specialty Nutraceutical category.
We offer a basket of Nutraceuticals, Phytochemicals & few other drugs with a differentiation in products through novel formulations and technological edge to meet the unmet healthcare needs
Nutragenix is involved in the business of branded Nutraceuticals, with an aim to nourish human health against various lifestyle-oriented disorders. Our products are manufactured according to the international standards (WHO-GMP Certified) in high-tech facilities and are made with high quality ingredients for high efficacy.
Vision
Novel evidence based nutraceuticals for unmet healthcare needs
Mission
To improve wellness by bringing innovative specialty nutraceutical products with the highest quality for better management of chronic and acute health issues
We bring the best of innovative technological advancements for better and faster results with high compatibility

With our international collaborations, we bring the best quality nutraceuticals for unmet healthcare needs

Maintain efficacy & discipline in all processes & systems and fulfill the commitment

High quality products and innovations aimed to improve the quality of life of patients
---
Innovative Technologies and Formulations
---
For Cutting-edge and Potent Products
---
International Collaborations
---
For Best in Class Formulations
Mr. Sameer Paigankar

Chairman & Managing Director

---

Sameer is a highly dedicated and versatile thinker with considerable experience in running start-ups and growing businesses. In his career of over 25 years, he has moved on at a rapid pace, and successfully established many different businesses in various Pharmaceutical organisations of repute. Beginning as a Management Trainee at Johnson & Johnson, Sameer has moved up the hierarchy to becoming a Product Manager at J&J, followed by GM-Marketing at Morepen Labs, Marketing Manager at Smith & Nephew, a Member of the Board of Director's at Glenmark, former director at Getz Pharma & Kinedex Healthcare and now director at Nutragenix Healthcare.

Sameer has successfully established the drug discovery infrastructure, API business and entire generic R&D backend for Glenmark Pharmaceuticals. His sharp professional acumen coupled with an eye for details have ensured that milestones were reached within record times in every organisation that he has worked for, be it, handling large research teams at Glenmark to deliver scientific and organisational objectives or the launching of branded generic business for Morepen Labs in India and achieving financial break even within 1 year.

As Chairman & Managing Director of Nutragenix Healthcare, Sameer is closely associated with identifying and developing new products and new formulations for meeting unmet needs in chronic disease conditions. Sameer holds a Bachelor's Degree in Pharmaceutical Sciences and Masters in Management Studies from Mumbai University.

Mr. SVK Murali

Director - Business Development

---

A post graduate BITS Pilani alumni, SVK Murali deals with the regulated markets of USA, EU, Canada and Australia. He worked with SOL Pharma, followed by Max India & Max UK and was instrumental in setting up Max Pharma's API unit near Mysore. He has worked with Max UK Posted in UK & US, assisting in setting up Life Insurance and Health care and clinical research businesses for Max UK.

He returned back to India to join Alembic and set-up their US and EU API business followed by Glenmark, where he was responsible for API business in US & Europe. His last professional assignment was with Zydus Cadila, heading their API marketing.

In his 25 years of experience he has dealt with various MNC's and leading Generic players across the globe working through product partnerships. He has an excellent understanding of the strategic and regulatory environment in the US and Europe which make him an invaluable business development resource. He is active in consulting space assisting several leading generic companies desigining their pipelines and setting strategic directions

Mr. Darshak Shah

Director - Supply Chain & Product Sourcing

---

An enterprising Chemical engineer with experience of 28 years in production, US FDA approvable projects, Global sourcing and supply chain. He started his career with UPL Ltd handling procurement. His last job was at Glenmark where he headed purchase function of R&D, API SBU and Project procurement.

At Nutragenix, Darshak directs overall supply chain operations, including planning, purchasing, inventory management, sourcing and product development of new products and vendors. Evaluates past data to forecast and scheduling of materials. Develops strategic plan to improve productivity, Quality and efficiency of operation. Darshak is closely associated with development of new products and sourcing of ingredients for Pharmaceuticals and Nutraceutical segments.

Mr. Monish Bhachoo

Board Member

---