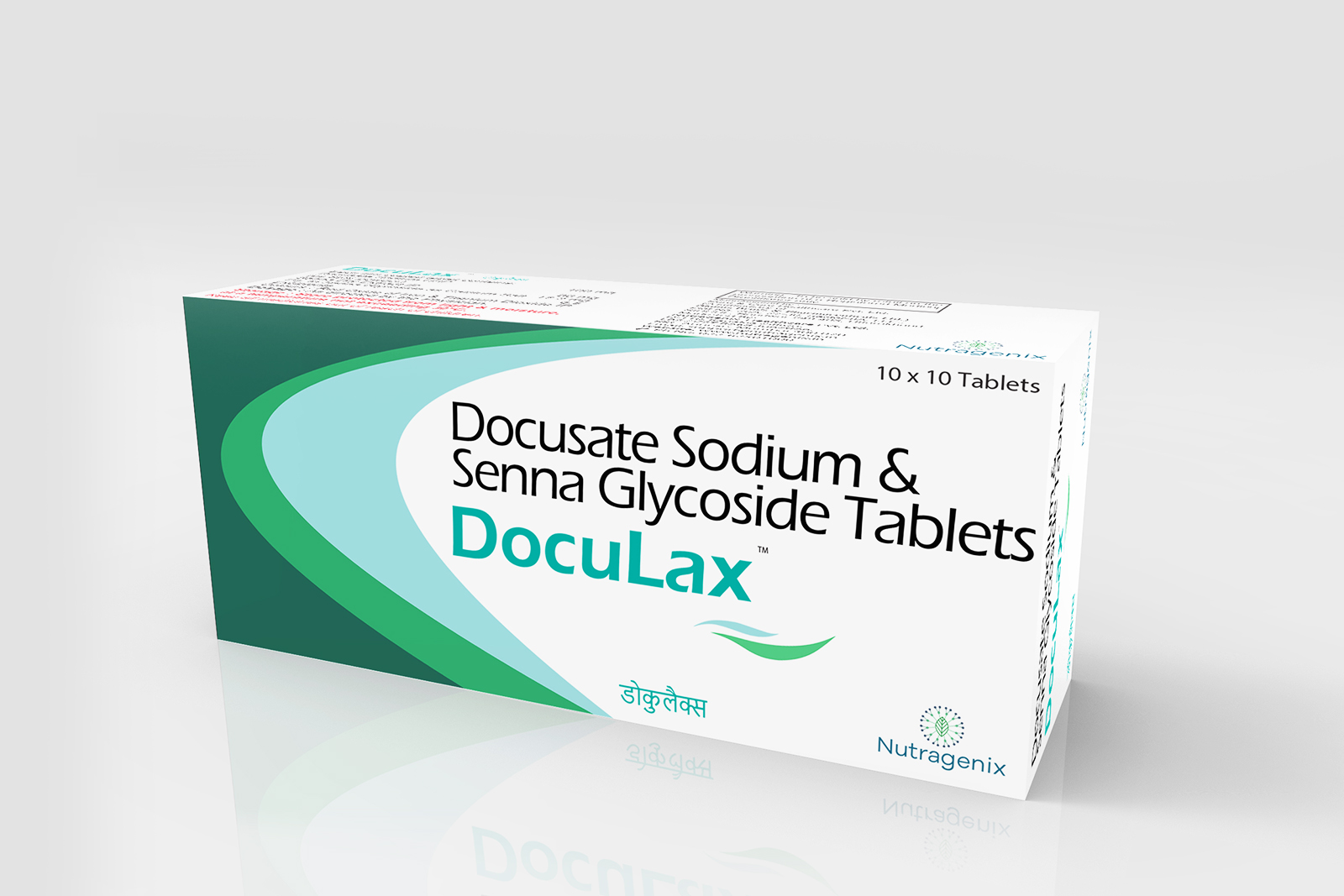 An easy approach to functional constipation

Each tablet contains:

Docusate Sodium USP 100 mg,
Senna dry extract IP 17.2 mg



COMPOSITION

Eachfilmcoatedtablet contains:
Docusate Sodium USP 100 mg
(As 85% Powder)
Senna Dry Extract IP 86 mg
Equivalent to Senna Glycoside as Calcium Salt 17.2 mg
Excipients q. s.
Colours: Red Oxide of Iron & Titanium Dioxide IP

PHARMACEUTICAL FORM

Film Coated Tablets

THERAPEUTIC INDICATION

Relieves occasional constipation (irregularity).

DOSAGE AND ADMINISTRATION

Take preferably at bedtime or as directed by a doctor.

CONTRA-INDICATIONS

These tablets should not be administered when abdominal pain, nausea, vomiting or intestinal obstruction is present.

This product should not be given to patients with a known hypersensitivity to any of its components.

Patients with rare hereditary problems of fructose intolerance should not take this medicine.

SPECIAL WARNINGS AND PRECAUTIONS FOR USE

Organic disorders should be excluded prior to the administration of any laxative.

The treatment of constipation with any medicinal product is only adjuvant to a healthy lifestyle and diet, for example:

Increased intake of fluids and dietary fiber.
Advice on appropriate physical activity

If there is no bowel movement after three days, a doctor should be consulted.

If laxatives are needed every day, or abdominal pain persists, a doctor should be consulted.

If laxatives are needed every day the cause of the constipation should be investigated. Long-term use of laxatives should be avoided.

Patients taking cardiac glycosides, antiarrhythmic medicinal products, medicinal products inducing QT-prolongation, diuretics, adrenocorticosteroids or liquorice root, have to consult a doctor before taking this product concomitantly.

Like all laxatives, this product should not be taken by patients suffering from faecal impaction and undiagnosed, acute or persistent gastro-intestinal complaints, e.g. abdominal pain, nausea and vomiting, unless advised by a doctor, because these symptoms can be signs of potential or existing intestinal blockage (ileus).

If stimulant laxatives are taken for longer than a brief period of treatment, this may lead to impaired function of the intestine and dependence on laxatives. This product should only be used if a therapeutic effect cannot be achieved by a change of diet or the administration of bulk forming agents.

Prolonged use may precipitate the onset of an atonic, non-functioning colon.

Prolonged and excessive use may lead to fluid and electrolyte imbalance and hypokalaemia.

Intestinal loss of fluids may promote dehydration. Symptoms may include thirst and oliguria.

Patients with kidney disorders should be aware of possible electrolyte imbalance.

When administering this product to incontinent adults, pads should be changed more frequently to prevent extended skin contact with faeces.

DRUG INTERACTION

It should not be taken concurrently with mineral oil.

Hypokalaemia (resulting from long-term laxative abuse) potentiates the action of cardiac glycosides and interacts with antiarrhythmic medicinal products, with medicinal products, which induce reversion to sinus rhythm (e.g. quinidine) and with medicinal products inducing QT-prolongation. Concomitant use with other medicinal products inducing hypokalaemia (e.g. diuretics, adrenocorticosteroids and liquorice root) may enhance electrolyte imbalance.

EFFECTS ON ABILITY TO DRIVE AND USE MACHINES

None known

UNDESIRABLE EFFECTS

Adverse events which have been associated with senna at in short-term use are given below, tabulated by system organ class and frequency.

In the treatment of chronic condition, under long-term treatment, additional adverse effects may occur.

Adverse events table

System Organ Class

Frequency

Adverse Events

Immune System Disorders

Not known

Hypersensitivity, urticaria, asthma, hypogammaglobulinaemia

Metabolism and Nutrition Disorders

Not known

Hypokalaemia1, cachexia

Gastrointestinal Disorders

Not known

Abdominal pain, abdominal spasm, diarrhoea2, gastrointestinal tract mucosal pigmentation3

Skin and Subcutaneous Tissue Disorders

Not known

Pruritus, local or generalised exanthema

Musculoskeletal and Connective Tissue Disorders

Not known

Finger clubbing, tetany and hypertrophic osteoarthropathy

Renal and Urinary Disorders

Not known

Chromaturia

OVERDOSE

In rare cases of overdose, excessive loss of water and electrolytes should be treated by encouraging the patient to drink plenty of fluid. Electrolyte loss should be replenished where appropriate.

PHARMACOLOGICAL PROPERTIES

Docusate sodium is an anionic wetting agent, which acts as a faecal softener by lowering the surface tension and allowing penetration of accumulated hard dry faeces by water and salts.

There are two different mechanisms of action of Senna:

stimulation of the motility of the large intestine resulting in accelerated colonic transit.
influence on secretion processes by two concomitant mechanisms viz. inhibition of absorption of water and electrolytes (Na+, Cl-) into the colonic epithelial cells (antiabsorptive effect) and increase of the leakiness of the tight junctions and stimulation of secretion of water and electrolytes into the lumen of the colon (secretagogue effect) resulting in enhanced concentrations of fluid and electrolytes in the lumen of the colon.

PHARMACOKINETIC PROPERTIES

Docusate sodium exerts its clinical effect in the gastrointestinal tract. There is some evidence that docusate sodium is absorbed and is excreted in the bile. There is also evidence that docusate sodium is capable of enhancing absorption of certain compounds administered concomitantly.

The action of the sennosides is colon specific and does not depend upon systemic absorption. The β-Ο-linked glycosides (sennosides) are neither absorbed in the upper gut nor split by human digestive enzymes. After oral administration of sennosides, 3 - 6% of the metabolites are excreted in urine; some are excreted in bile.

STORAGE INSTRUCTIONS

Store at room temperature. Keep out of reach of children.